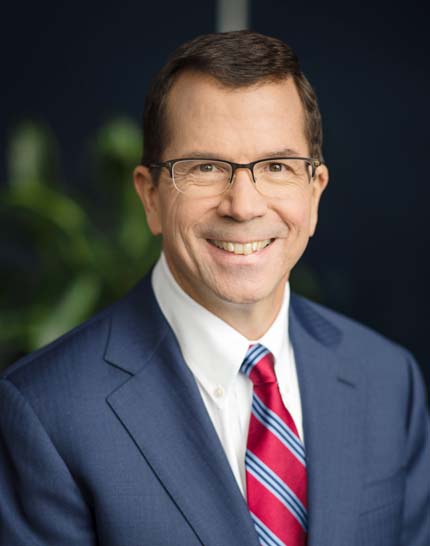 CEO & PRESIDENT
LEO PARSONS
Leo Parsons was appointed CEO and President of CTDI in January, 2020. Leo's vison is to not only build on CTDI's 45 year legacy, but to navigate CTDI into a new era of technical innovation and strategic global expansion. Leo's objective is to develop and execute CTDI's global business strategies, as well as drive our innovative test engineering, IT systems integration and supply chain solutions for the industry's leading service providers and OEMs worldwide. Leo's business strategies will further position CTDI as a world-class service provider and drive the growth of CTDI's dynamic and technical five division business model.
Additionally, Leo will lead CTDI's Engineering efforts related to 5G network equipment, as well as identify opportunities to leverage the company's comprehensive testing, repair and logistics expertise to deliver in-region business solutions for CTDI's global customers.
As the CEO, Leo intends to echo the words of his father "our employees are CTDI's greatest resource" and remain steadfast to CTDI's corporate culture of diversity, sustainability and social responsibility in every community where CTDI does business.
Community & Charitable Leadership:
Leo and the CTDI family have proudly supported the United Way of Chester County raising more than $4 million dollars for United Way's member agencies. Leo continues to foster a culture of giving through CTDI CARES, a 501(c)(3) charitable program dedicated to more than 8,000 of CTDI's employees, providing financial support to those faced with serious illnesses.
Leo's civic engagement and leadership extends to several boards in his local community. He serves on the Board of Directors for the Foundation for Catholic Education and is a member of the Strategic Planning Committee of the Advisory Council of Elementary Education in Chester County. Leo is past Chairman of the Board of Directors for Bishop Shanahan High School (2005-2019) and was awarded the Bishop Shanahan Medal in recognition of his dedication to his alma mater. He is also Board Emeritus and past Board Chairman of the YMCA of Greater Brandywine. Leo received the Gary R. Green Community Award from the YMCA of Greater Brandywine for the significant impact he has made as a volunteer leader for the YMCA, as well as in the West Chester community. Additionally, he and his wife Maryanne received the Service to Youth Award from the YMCA of Greater Brandywine for their tireless efforts in support of the Good Kids Program.
Leo and Maryanne are the parents of four children; Matt, Mark, Leo and Megan. They are the proud grandparents of Reagan, Blakely, Louis and Kaine, children of their son Matt and his wife Megan.